Abbot's Hill School - Art Room
​
We were instructed to carry out a comprehensive refurbishment of the existing Art Room and adjoining storage area. This included supplying and installing perimeter storage units and plan chests. We also changed the Belfast sinks for large stainless-steel sinks with drainers and provided large mobile student work stations with pepperpot stools. Desktop easels were also supplied.
Aylesbury Grammar School -
IT 1 & 2 Teaching Rooms
​
We were briefed to design the two rooms for IT teaching across all subjects. We had to remove asbestos ceilings and the existing mechanical heating system. We fitted new suspended ceilings and installed heating and cooling air handling, decorated the rooms and supplied new flooring, lighting prior to installing the furniture solution. The work stations were designed with an integral cable tray as part of the sub-frame.
Bottisham Village College -
Library
​
As part of the school refurbishment programme, the existing library was relocated to the old main school hall. We had to ensure that the bookshelves could be accessible to all students and members of the local community, who are encouraged to share the facilities which include a soft seating for younger users. We manufactured the bookshelves in Hacienda White from Egger with graphite grey shelves. We supplied a large reception desk for the librarians' use finished in walnut. We installed bespoke lightbulb shaped work areas complete with centralised power and USB charging pods.
Fairfield Park Lower School,
Ruskin Drive
- Furnishing
​
To address the increased local housing supply and associated demand for school places, the Local Authority built a brand-new lower school in addition to the existing site. We were asked to create storage solutions in a number of areas across the site. Colours and finishes were chosen by the SLT to complement the new building. In addition to generic classroom furniture, we designed and installed 'learning alcoves' for small groups and individual study.
Kingston Grammar School -
STEAM Room
​
We designed the room to be a very flexible teaching space ideally suited to the varied departments' needs. We had to allow space for a 3D printer and individual charging bays for 16 laptops and a further 16 PiTop laptops. We installed a cavity wall behind which was concealed the power and data cables for the wall-mounted monitors. In addition, the student tables were fitted with lockable castors in order that the teaching space could be easily reconfigured. We designed a bespoke storage wall with integrated, glass-fronted display cupboards with LED lighting and large format TV monitor.
Southend High School For Boys -
Library
​
During the Summer of 2015 we converted the Hitchcock library into 2 science laboratories. The library was housed temporarily whilst a new building was constructed. We were asked to design and install furniture to the new library, classrooms and offices within this purpose built space.
We added to and matched the existing library furniture to avoid waste and unnecessary cost.
Abbot's Hill School –
Year 8, 9, 10 & 11 Common Rooms
We updated the existing common rooms to create modern, practical and comfortable environments. We installed new LED lighting and integral heating / cooling. We decorated throughout and fitted Durafloor Storm carpet. Individual lockers were installed. Perimeter staggered seating upholstered in a mix of Camira Hemp & Hebden fabrics creating contemporary, relaxing spaces. We also installed storage units for musical instruments and hockey / lacrosse sticks and laptop charging units.
Aylesbury Grammar School -
Professor William Mead Library
​
We took an old science laboratory and adjoining offices and transformed them into a light and airy library and learning space. We used white Kraft oak with 40mm shelves for the book storage units and Tiepolo walnut for the student desks. The librarians desk was also created using Tiepolo walnut complete with a 'floating' 20mm acrylic shelf and logo fascia.
Princes Risborough School - Sixth Form
Room
We undertook a conversion of an old gym into a 6th Form centre and LRC. A specialist lighting engineer was consulted to ensure the best lighting of a very large space whilst keeping aesthetics as a priority. Different learning areas were created including an integrated 'pod' for individual tuition or group meetings.
Kingston Grammar School –
The Hattersley Room
We were tasked with re-designing the existing Conference / Governors / Exam room into a more functional multi-use room. This included the supply and installation of a bespoke beverage unit, a glass fronted tall display unit and 4 large drop-leaf tables which could then be used as a boardroom table measuring 6000mm x 1500mm. We also supplied ergonomically styled, fully adjustable chairs.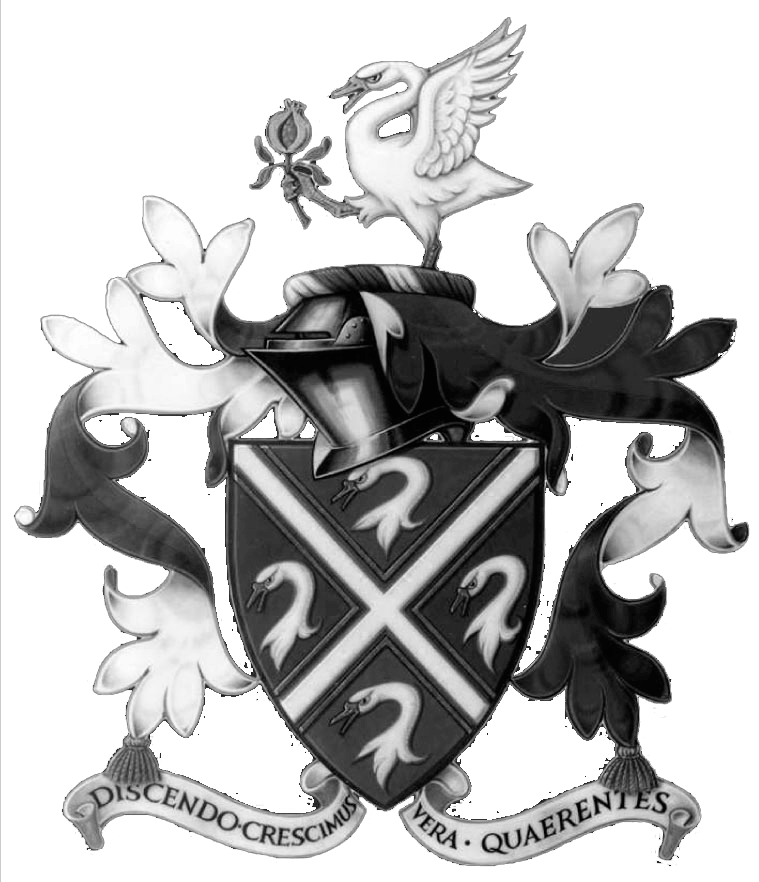 Kingston Grammar School
– Classrooms x3
We refurbished three classrooms (2x geography, 1x general teaching). In each classroom we designed, manufactured and built a teaching and storage wall which included the provision for a large screen television and full length teaching white boards. We designed an individual 'lunar' table for each student and a and complementary Teacher's Workstation made from white CDF (Compact Density Fibreboard), which is a new material in the manufacture of educational furniture. In all classrooms we installed new carpet, decorated throughout and fitted clear 60 minute fireproof vision panels between the classrooms and adjoining corridor.
Dr Challoner's High School
– Art Department Relocation
We relocated the Art Department classrooms to a new area within the school. To accommodate the space required we employed the services of a structural engineer who specified the removal of existing internal walls and services to create the required teaching spaces. We then designed, manufactured and installed new furniture throughout in 16mm white speckled Trespa and white MDF. We supplied and installed 3 x 750mm fire clay sinks with shared clay trap to each classroom. We fitted Forbo black Seagrass vinyl flooring throughout.
Abbot's Hill School
– Year 7 Common Room
We updated the existing year 7 common room to create a modern, practical and comfortable environment. We widened the entrance doorway and fitted a new external door with vision panel, installed a new suspended ceiling with LED lighting and integral heating / cooling. We decorated throughout and fitted Durafloor Storm carpet. Individual lockers with light grey carcasses and black doors were installed along one of the internal walls. Perimeter staggered seating upholstered in a mix of Camira Synergy Hook and Hemp Ashworth fabrics created a contemporary, relaxing space. We also installed storage units for musical instruments and hockey / lacrosse sticks and a laptop charging unit.
Stoke High School – Reception Area
We were asked to re-design the main school reception area to create a welcoming area for staff, students and visitors alike. We designed and built a large two person reception counter conforming to DDA requirements and supplied a range of visitor seating which complements the school colours. We removed a brick wall and steel shutter between the reception and adjoining office and replaced it with a fully glazed, full height screen. We fitted a new suspended ceiling with LED lighting throughout as well as new carpet and decorations.
Tring School - Media Studies
We incorporated structural pillars into our room design which enables all students a line of sight to newly installed TV monitors, an essential component of delivering this subject effectively. The desks were designed to maximise the number of desktop computers within the designated space.
Aylesbury Grammar School -
Sixth Form Learning Centre
To accommodate an increasing 6th form student body, we transformed the old school library into a 6th form study centre, created an additional study centre in a redundant locker storage area and added seating and tables in a common room. The school also added an external seating area. The finished project created individual seating for in excess of 400 students.
Bottisham Village College - Classrooms
We were awarded the contract to supply and install classroom furniture and accessories to sixteen newly refurbished classrooms. We supplied UK manufactured, fully welded tables and the industry acknowledged EM series chair.
Downside Primary School -
Computer Room
We designed and created island and perimeter work stations in an iMac suite. This included an acoustic wall to prevent noise transfer and all colours, materials and finishes were carefully selected to complement the Apple inspired teaching space.
Mandeville School -

Reception Pod
We created a stand alone 'pod' within a very large reception area allowing for private meetings with parents and students. The free standing acoustic circular meeting pod allowed for complete privacy within a public space with a striking design.
Mandeville School - Library
We delivered book storage and a combination of formal and informal learning spaces with a mixture of soft furnishings, sofas, circular and square tables and chairs. We supplied contemporary aluminium tables and chairs for the external learning spaces adjoining the library.
The Misbourne School -

Staff Room
This new build space created a staff area with soft seating. We achieved this through a variety of size and shapes of sofas and table. The bespoke storage wall provided pigeon holes and cupboards. A space-saving kitchenette area completed efficient use of space.
St Columba's College - Computing
We created four bespoke workstations allowing students to view a dedicated large TV screen at each station, all of which are independently controlled through a teacher's tablet. A separate bean bag informal informal teaching space was created. The room was nominated for a national teaching award.
The Misbourne School -

Sixth Form
A new-build space was designed to house informal and formal group and individual learning areas through a combination of bespoke tables and study booths. The whole build had a lime green and purple theme to which we carefully matched all furniture to complement this theme.
Mandeville School -

Conference Room
Through the provision of individual seats with integrated writing tablets the room could be used as a teaching room, for conferences or for parent consultation. All chairs were stackable and can be moved to the periphery to allow for group activities.